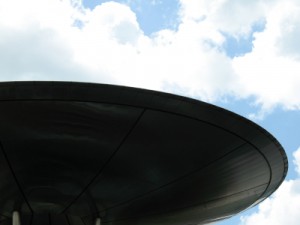 Snapped this picture of one of the dishes while the ARC terminal was spinning up.
I've disconnected everything, manually input the coordinates into the ARC, and I'm ready to start scanning the universe by hand. This is about as raw as this kind of science gets. No auto-scan, no software interpreter—just one man at the controls looking for blips and spikes.
Got a giant thermos filled with hot Java, my faithful Husky, Buzz, and the Rolling Stone's "Let It Bleed" on the iPod. Whether I find anything or not, it's going to be a good day.