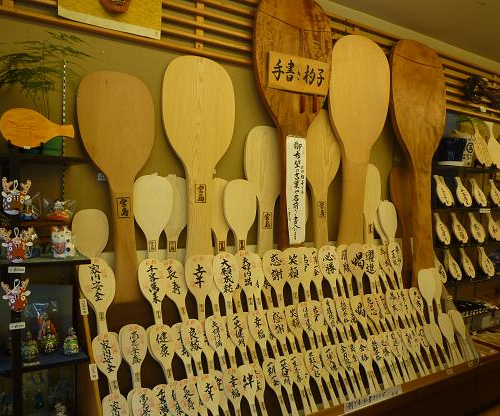 While I was waiting for Telders to ring the zombie gong I took a moment to survey the little town whose name I still hadn't learned. It was one of those simple, one street villages with a dozen little gravel roads that forked off into a small groups of modest homes. The road began at the top of a slight incline on the east side of town, guarded by two giant boulders that had the Japanese characters for fire (火) and water (水) carved into the stone. Little streams no wider than a couple of feet on both sides flanked the road and ran the length of the town, which wasn't far—perhaps no longer than half a mile. Beyond that, the road quickly thinned out into something resembling dirt or gravel, then wandered off to the west, giving way to the distant, snow-capped peaks of the Yūbari mountains.
A few doors down was a cozy looking restaurant with a rolling, glass display case parked outside that featured delicious looking plastic replicas of their menu items. Across the road was a general store with a giant, wooden shamoji (those serving paddles for rice) hanging in an open-air window. It was probably four feet in length and looked like it was made out of polished teak wood. There were many more rice paddles hanging about, though none so impressive. They others came in a variety of plastics and wood—some plain, some beautifully hand-painted with lush, pastoral scenes, while others were a little more kitschy and mass-produced, plastered with cartoonish samurais, Hello Kittys, and wide-eyed manga characters I didn't recognize. It looked like the shamjoi HQ of the world. There was even a pile of T-shirts with the picture of the giant paddle emblazoned on the front. I peeked inside the store.
Shamoji everywhere. And a bloodied corpse slumped over the register.
I guess I had tuned out the horror show for a moment. But with that, all the bullshit came screaming back into place. I shambled back outside. Splayed under benches, lying face first in the streams, or collapsed in the middle of the street… men, women, children… their purses and shopping bags and lunch boxes strewn about, inches from their mangled, diseased hands. Death was everywhere. And the air was ripe with its smell.
I clenched my teeth and hugged my shotgun, fueled by a sudden rage to blow the head off of anything that moved.
"Ring the fucking gong," I growled.
And then, as if Telders had magically heard me whisper the order, the brassy Buddhist gong at the top of the hill came alive in doubles: GONG-GONG, GONG-GONG, GONG-GONG, summoning any, and all, able-bodied zombies into battle.
"Alright," I said, turning around, scanning the shadows and the storefronts for the undead…. "Come get me you fucking retards."