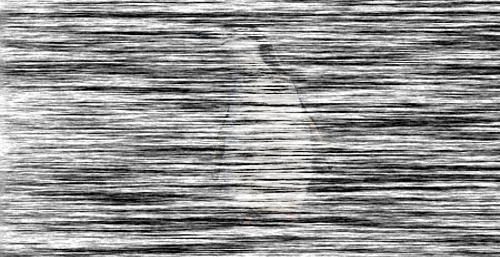 TELDRS.
The word is stuck in my head. I don't know why, but I despise it. And it refuses to leave. It is hammered into my skull, plainly, gallingly, displayed without meaning, without remorse, demanding to be scrutinized, its mystery suffered.
TELDRS.
I despise it and I despise that I don't know what it means. I try my best to think of other things. I try to think of nothing at all. It is hard. It does work… for a time. But the word always returns. TELDRS. It's there as I leave the antennas behind and float over the valley toward the water's edge. It's there as I comfort the fetal pig, who squirms against my chest. It's there as my vision falters and the landscape becomes noisy streaks of black and white.
TELDRS.
It is a savage word. I continue to float, imprisoned by it… until I'm floating no longer. I have crashed, or set down, or simply sunk into the mud on the barren, rocky shore. I can no longer tell. My eyes are lost. Broken. The world appears like a giant sleeve has smeared its ink.
Something is here.
I can barely make it out. It is a black and white blur set against a larger black and white blur. The fetal pig is spooked. He must see it plainly. He is panicking. Digging. His hooves are sharp. Sharper than I would have imagined. He's tunneling into my chest. It is agony. I can't see to stop him. My blood is gushing. I should be terrified, but the fluid is warm and strangely comforting. The fetal pig reaches my heart. He draws near, curls around it. Sleeps. He is gestating now. He is safe.
But I have no heart for shelter. I am the only line of defense. The blur edges closer, fresh snow crunching under its feet. Closer. I raise my fist, preparing to lash out. Then it makes a noise: a bright, honking sound. I give a start, but quickly realize my foolishness. The blur is only a penguin. A little chinstrap. I laugh, both embarrassed and relieved.
I reach out and snap his neck.
TELDRS.